40 years of bringing together parties in conflict through understanding.
The Center for Understanding in Conflict, formerly The Center for Mediation in Law, was formed in 1981 by Gary Friedman and Jack Himmelstein as a non-profit educational institute dedicated to integrating mediative principles into the practice of law and resolving legal disputes in commercial, family, organizational and other legal and non-legal settings.
Initially, the Center conducted introductory and advanced training programs, offering its unique understanding-based approach to conflict resolution. From 1980 – 2000 demand for conflict resolution and mediation training was predominately for lawyers and other representatives from the legal community looking to provide their clients with alternatives to court-decided outcomes. Basic 40-hour conflict resolution and mediation training programs were designed and taught to meet these needs, conducted at physical locations throughout the United States.
From 2000 – 2020, the understanding-based approach to conflict resolution caught the attention of large corporations, tech companies, universities, and NGOs who found that incorporating the model into their operations could reduce liability and expense while improving workplace culture outcomes for employees and clients experiencing disagreements and disputes. Advanced and online programs were developed in response to the unique needs of these large organizations and regularly conducted throughout the year.
The application of this approach has now expanded to collaborative practice, non-profit organizations, ombuds work, workplace disputes, and other settings in which professionals wish to help parties work through conflict differently. Beginning in 2022, we also launched a Teacher Training program to prepare practitioners to bring the model into communities of need based on attendees' unique passions and interests, including healthcare, education, religious organizations, social movements, and community centers.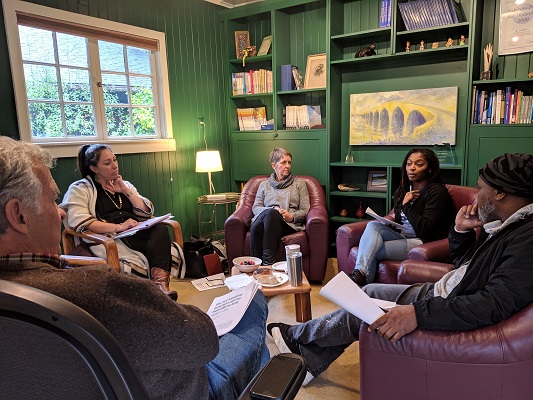 How You Can Support Our Mission
The Center for Understanding in Conflict has been committed to bringing conflict resolution training to those who need it to make a difference in bringing people together for over 40 years. As the understanding-based approach has grown in prominence, alongside a diverse and urgent demand to resolve conflict on multiple fronts since the close of the last decade, we look to supporters and advocates of the understanding-based model to meet the expressed need of communities looking for custom educational materials, smaller training events, scholarship opportunities, and instruction for application of the model in their personal lives.
This year, the Center celebrates forty years of making a difference in the lives of those in conflict through understanding-based conflict resolution education, training generations of mediators, legal professionals, health and family service providers, and corporate and nonprofit leaders. As we look to the future, our priority in the coming year is to expand accessibility, evaluate and adapt programming to meet the needs of diverse audiences and voices while working to ensure that we equip those who participate in our teaching and training programs to meet the complex demands of bringing together those in conflict across all sectors of our society, at home and abroad.
We have never operated with an eye toward expansion, growth, or increased administration because it wasn't necessary at the time – we met the need with the minimum resources needed to continue, and that worked for many years. Times have changed, conflict and the desire to resolve it is now found in communities throughout society, and the demand for training is outpacing our capacity to meet it.
Will you help us bring together parties in conflict?
The Center for Understanding in Conflict is a charitable organization recognized as tax-exempt by the IRS under Section 501(c)(3). While we appreciate your interest in supporting our efforts to bring the understanding-based approach to conflict resolution and mediation wherever it is needed through training and professional development, please note that within the United States, we are only able to accept contributions from the following states: Arizona, California, Colorado, Delaware, Idaho, Indiana, Iowa, Montana, Nebraska, New York, South Dakota, Vermont, and Wyoming.
If you would like to support the Center and reside outside these locations, please contact [email protected].
Thank you for your interest and support, and for all you do to bring parties in conflict!
Your donation is tax-deductible within the guidelines of U.S. law. To claim a donation as a deduction on your U.S. taxes, please keep your email donation receipt as your official record. We'll send it to you upon successful completion of your donation.
Note: Nothing on this website shall be considered a charitable solicitation within the states of Florida, New Jersey, and Pennsylvania.