Continue Mastering the Understanding-Based Model
with Professional and Peer Support
Our annual membership program, CUC Connect, is a home for those drawn to the understanding-based approach to conflict. Members have access to a year of webinars covering professional development, hot-button issues in the professional and practitioner realm of conflict resolution and mediation, and panel interviews with leading minds on how the Understanding-Based Model has impacted the lives of those they serve.
CUC Connect is for everyone looking for continuing support as they master the art of turning the emotions they've always avoided into a powerful path to professional wholeness and effectiveness, ultimately leading to better outcomes and a human-centered approach to finding resolution between those in conflict.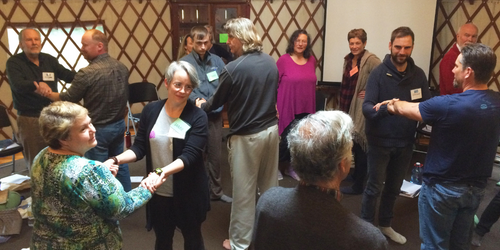 If you have trained with us:
We know that you probably feel inspired and hopeful as you think about applying our techniques to the conflicts you wade into as a lawyer, mediator, psychologist, community activist, team leader, or any other work role in which you work with people in conflict.
We also know that working in this new way is highly challenging. The CUC approach—embracing emotion as a tool for understanding and resolving conflict—upends many entrenched professional practices and deeply held beliefs. It disrupts old systems—your old systems. And that can leave you feeling alone and professionally isolated.
Many who have taken our training programs have told us they would like ongoing opportunities to stay up-to-date with developments in the Understanding-Based Model, practical tools for mediating in the field, and continued access to teachers to foster additional growth.
If you're curious about us:
Maybe you've encountered our ideas in books or articles or heard them in debate. You may want to dig deeper and hear our work explained by the people who pioneered it.Some conflict professionals prefer to stay relatively anonymous as they explore our methods, which their peers may regard as unconventional or threatening.
If you're like them, you're probably looking for a low-cost, low-commitment introduction to what it would be like to bring the Understanding-Based Model to your professional approach and a chance to investigate whether our conflict resolution and mediation methods are for you.
CUC Connect is a safe place to test the waters and discover why professionals and practitioners have incorporated our Model into their practices, organizations, and companies for the last 40 years.
You'll find a sustaining professional home in CUC Connect.
Two levels of membership, one path to connection.
Our two membership tiers, described in detail below, feature increasing levels of support and interaction with CUC instructors and peers. No matter which membership is best for you, you'll have access to our seasoned and professional trainers and the collective insight and wisdom of our growing and vital community.
A CUC Connect membership will help keep you learning, stay motivated, and find support from your peers and instructors at the Center for Understanding in Conflict. Whether you're curious or committed to our model, you'll find a membership tailored to you.
Beginning in November, 2022, an additional webinar will be featured each month from our catalogue. Over the course of your 12-month membership, you will have the opportunity to view a total of 24 training videos.
Choose A Membership Level
Description
Make the connection with Basic Membership:  $150/year
Our basic membership will keep you in regular contact with the CUC instructors and community, with twelve live webinars per year. You'll gain confidence in your ability to manage the conflict in the room by watching our techniques at work, and learning to apply them. You'll see not just the basic principles but the subtleties, nuances and small techniques that can make a difference to people in conflict.
Basic membership is ideal for those who'd like to review or test-drive our model and begin to experience the effectiveness and relief that come from bringing your whole self into your work with conflict.
Basic membership includes:
* 12 live webinars with CUC instructors – ($564 value)
* 12 featured webinars, released monthly, of past trainings and topics ($444 value).
* 5% discount on registrations for live trainings
* Free access to recordings of webinars released in your year of membership so you can watch and refresh your skills anytime
Purchase a one-year basic membership for $150 (the equivalent of $12.50 per month)
Description
Deepen the connection with Premium Membership:  $250/year
Premium membership is designed to provide a monthly opportunity for more personalized learning and deeper connection with the CUC community.
In addition to our 12 live teaching webinars, many with the ability to participate interactive discussions. You can discuss the issues you're facing, talk through scenarios, and receive support working with conflict from the inside out. Members are also able to access 12 additional featured webinars, (one released each month).
We recommend this level of membership for people who would like regular, ongoing insight and encouragement as they take our approach into their daily work lives.  Our continuing support will help you face and embrace the vulnerability that comes with entering the messiness of conflict without checking your genuine self at the door.
Premium membership includes:
* 12 live webinars with CUC instructors – ($564 value)
* 12 featured webinars, released monthly, of past trainings and topics ($444 value).
* 10% discount on registrations for live trainings
* Free access to recordings of webinars released in your year of membership so you can watch and refresh your skills anytime
Purchase a one-year premium membership for $250 (the equivalent of $21 per month)